Mt. Carroll reclaims the title for the record minimum temperature in Illinois
Champaign, Ill., 3/6/19: An Arctic outbreak in late January 2019 led to widespread bitterly cold temperatures across much of the Upper Midwest, including Illinois. On the morning of Jan. 31, the cooperative weather observer at Mt. Carroll, located in Carroll County, reported a temperature of -38 degrees.
After a comprehensive review, the State Climate Extremes Committee (SCEC) unanimously voted to validate the -38 degrees reading as the new official state record minimum temperature. This committee ensures that the observation is meteorologically plausible, is within a range that the reporting instrument can detect, and that the instrument is in proper working order.
First, I understand if you have never heard of "Mount Carroll" because this blog pertains to my hometown readers out there. Mount Carroll OFFICIALLY holds the record for the lowest recorded temperature in the entire state of Illinois. NEGATIVE THIRTY-EIGHT degrees on January 31, puts us in the not fucking around club type of measurements. This is huge news for my hometown of 1,500 people, what else do they have to look forward to other than this awesome accomplishment. The last time Mt. Carroll was making headlines in March was 2003, and Chris Payne was leading the Hawks to the IHSA title game (in which we lost).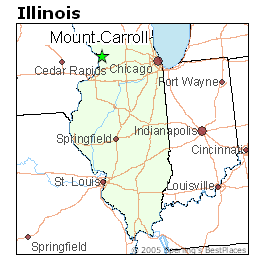 This is were most people would become complacent and scoff at -38 degrees like it was barely an accomplishment. The weather is starting to SLOWLY (very very slowly) get warmer and soon this will be all but forgotten in most peoples minds. Maybe you'll use this factoid at a bar trivia night or when you've run out of pick up lines for the ladies. But me? Unlike most people I understand that records are meant to be broken, so I'm already preparing for next years record. With all this climate change hoopla that the news is shoving down our throats I've realized that Mount Carroll's record is not safe, nor will ever be. So until then, we wait, and we prep, and we study because if Mount Carroll doesn't have this record, what else does it have?!?
By: Marcus Fitzpatrick