After yesterday, if you think any other sport in America is better than the NBA, well I'd like to tell you that you're wrong. The NBA has been growing and been on the uptick. But now it has surpassed every league in America and it's not even close.
How did it pass every other league? Personally, I think it's due to 3 things.
The Pettiness
The Offseason
#NBATwitter
Those 3 things make the NBA so much better than every other league. Players aren't as petty in the other leagues, they don't sub tweet each other, they don't throw unnecessary shade at each other that have layers to it. There is no hashtag for the other leagues. The NBA is just pure gold.
Last night was one of the days "where were you when it happened" #NBATwitter days. An absolute incredible day.
All that happened in ONE day!!
What other sport are you getting this content? And I'm glad my NBA twitter fam was with me the entire way.
Jimmy Butler
We start off the day with Jimmy Butler requesting a trade. Major bomb to drop around 2 pm. He doesn't wanna play in Minnesota anymore, less than a week before training camp starts. Wild news. But that was nothing.
THEN, we get Nick Wiggins (Andrew Wiggins brother) quoting Shams tweet with the "Hallelujah"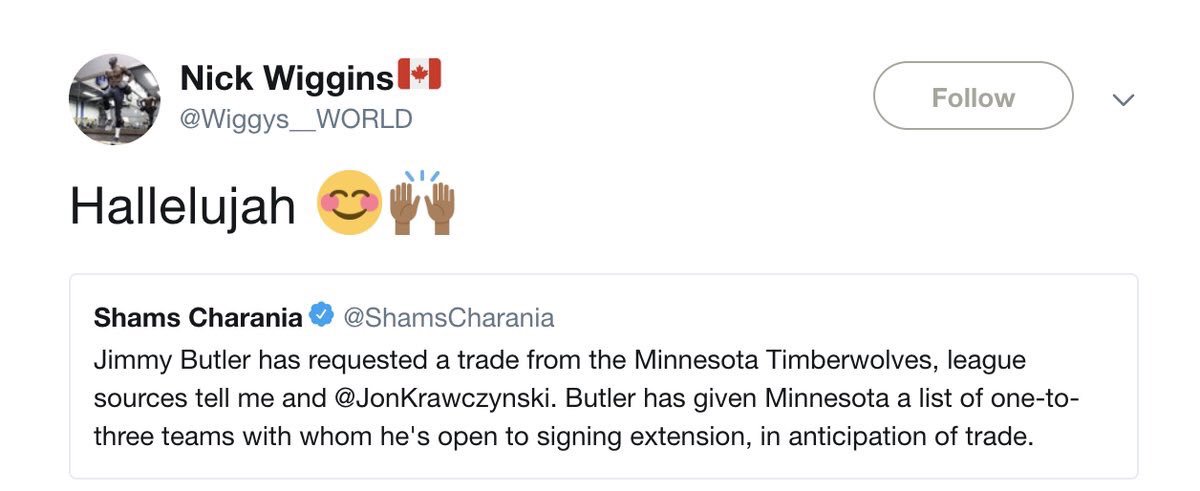 MAJOR SHADE. We knew the Twolves locker room was divided but like this. Come onnnn
And THEN, we get the Jimmy Butler pettiness and slap-back.
With the same emojis !! 😩💀😂
Incredible content
But that's not all with the Wiggins saga (We'll get to that in a minute)
ps: I am always team Wiggins
Joe Ingles vs Blake Griffin
I mean this is just tremendous and absolutely ruthless by Joe Ingles. He wins this round in a 3rd round knockout.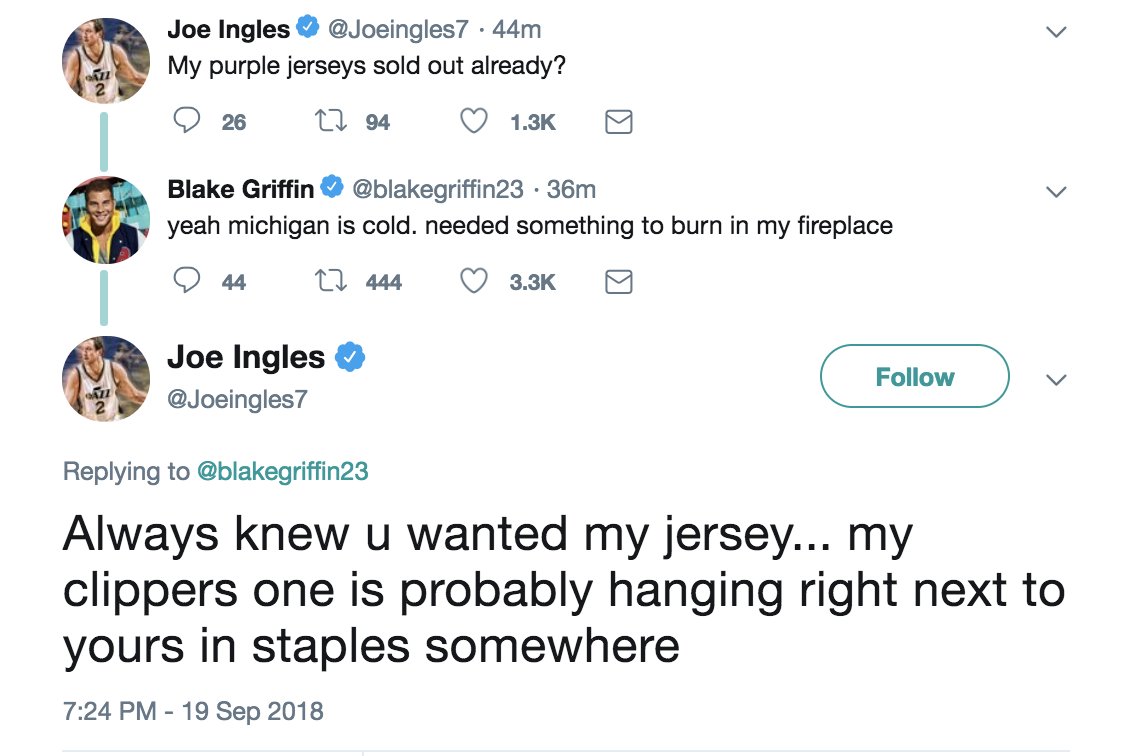 I mean that's just RUTHLESS by Joe Ingles. Absolutely ruthless because of the layers behind it. And if you don't get it, I got you covered.
The Jazz just released their new jerseys and Ingles is making a point that they're sold out already. Then Blake Griffin tries to be a dick and gets body bagged by the Aussie.
The Joe Inlges tweet has layers and it goes as followed:
Griffin was hesitant to resign with the Clippers but they brought him in for a meeting and in that meeting they put a whole highlight tape together from him jumping over the Kia car to all his best highlights and at the end of the video they showed his Clippers jersey hanging in the Staples center. So he loved it, he felt the loyalty and he signed a 5 year contract. Only for the Clippers to ship his ass to Detroit 3 MONTHS later. So Ingles got traded from the Clippers to the Jazz and he only played preseason with the Clippers. So him saying his jersey his hanging in the rafters like Blake's is fucking RUTHLESS.
God Bless Joe Ingles.
Space Jam 2
Honestly, on ANY other day, this would've been the biggest news of #NBATwitter. When you finally get confirmation that Space Jam 2, that is huge news. Especially when you know LeBron is definitely starring in it and superstar director/producer, Ryan Coogler (Creed and Black Panther) is producing it.
Space Jam 2 is gonna be unbelievably good. There can be so much pettiness and shade in this. Are we going to get an Arthur fist meme? Can we get Brian Windhorst in this ovie to play Michael Jordan's, "Newman". Are we getting the Monstars to steal the Warriors talent? Will the Monstars steal LeBron's talent? How will Bronny and Bryce Maximus play a role? Are we getting Lance Stephenson or JR Smith?
So many questions. I honestly can't wait. Give me this movie right now.
Andrew Wiggins vs Stephen Jackson
The nightcap and this one just had me going. It was an absolute go last night and this capped it all.
And it wasn't just a nightcap. It was a REAL nightcap. We're talking about midnight. And with #NBATwitter, we don't sleep. So this could've carried over into the next morning.
Last night, we had Stephen Jackson taking unnecessary shots at Andrew Wiggins. Jackson, an old timer, is just trying to keep his name relevant. Gotta respect it.
And this is what Jackson had to say.
The first post was an instagram post by Andrew Wiggins. At FIRST, we thought it was about Jimmy Butler. That was refuted quickly.
In the video, you can see that Stephen Jackson is telling Andrew Wiggins that he has no heart and doesn't try hard. He blamed Andrew for his brother's tweet and was blaming Wiggins that he couldn't handle Jimmy Butler. Not true. Wiggins couldn't handle Jimmy Butler's "winning" attitude. Yeah, I'm really sure Wiggins couldn't handle losing in the Eastern Conference Semi's every year.
(Yeah, now I'm taking shots. Don't go after my guy Wiggs).
And THEN Wiggins responds to everyone that he was talking about SJ and not JB.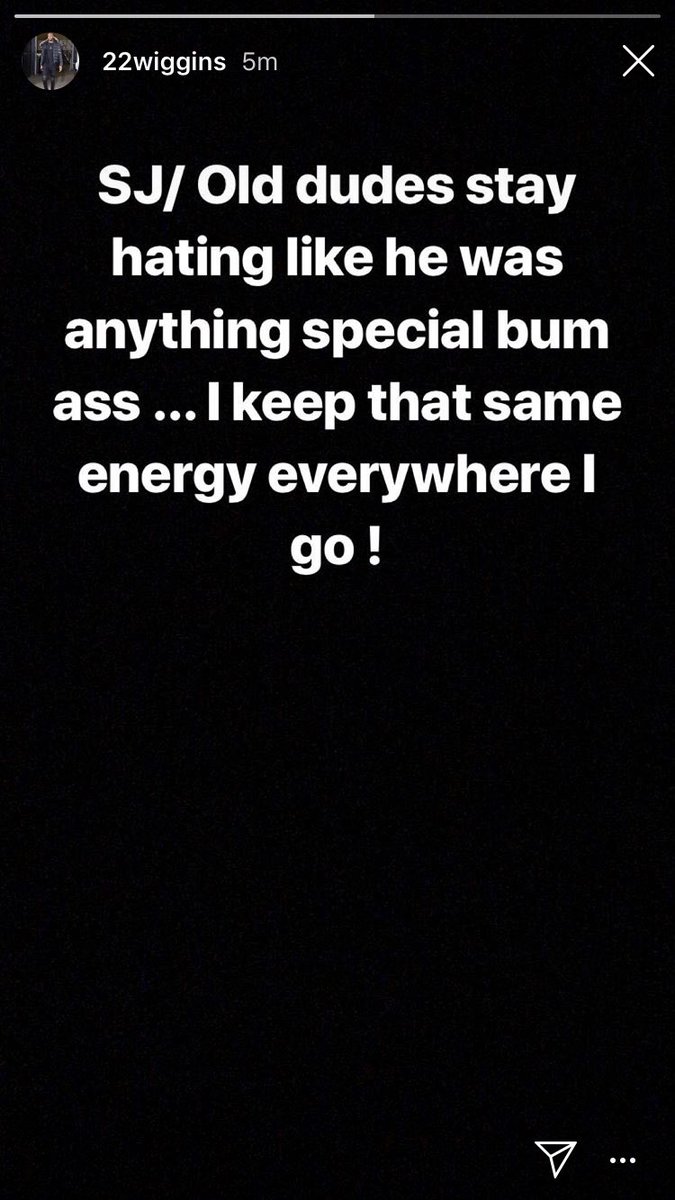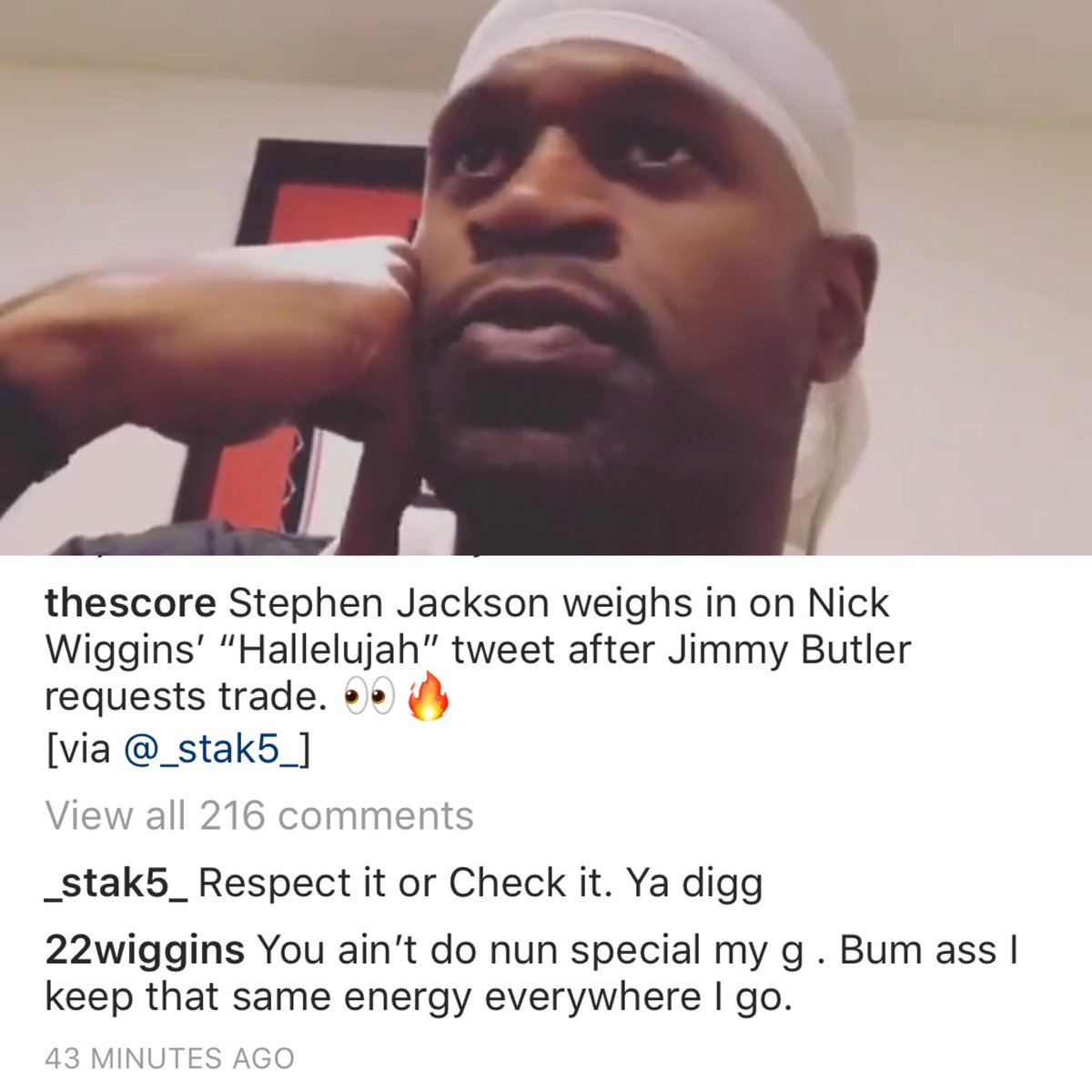 Finally, we get a Andrew Wiggins clapback. Finally, we are seeing that mean side, that competitive spirit. I mean, I always seen it but now we're seeing it too.
Wiggins is just gonna mess around next year and average 28 ppg without Jimmy Butler.
In Conclusion…
What a night. #NBATwitter at it's best and again, the NBA wins. And it's going to keep winning. Let the good times roll.
Start the season yesterday. Lets get this going.
To keep up to date about all things #NBATwitter here is the link to do that
Twitter:  @wingspansports  (follow for all your Sports needs by clicking the @wingspansports handle given there) (we'll follow back, you won't regret it) and follow @BellyUpSports