Second Edition of this year's NBA Power Rankings. The rankings will follow same format. Teams we'll only be ranked on how they have performed for this year only.
30. Dallas Mavericks – record 1-6 
Last Week: 29
Things are not going great in Dallas in what are Dirk's finals years. Nerlens Noel does not have a definitive role on the team, Dennis Smith Jr has not impressed as much as he did in the preseason and the bench play has been relatively weak.
Team MVP: Harrison Barnes – 18.1 points, 6.3 rebounds, 34.3% from 3
Best Rookie: Dennis Smith Jr. – 13.2 points, 6.6 assists, 3.0 rebounds
29. Atlanta Hawks – record 1-6
Last Week: 24
Hawks have a head to head win over Dallas ranking them ahead. Dennis Schoeder has been playing at an all star level although an ankle injury has cost him a couple games early on. Three Hawks who have trade value for contenders: Marco Bellinelli, Mike Muscala, Kent Bazemore.
28. Sacramento Kings – record 1-5
Last week: 23
The Kings have now lost four in a row and are losing by an average of 9 points per game. The Kings have now scored the third fewest points in the league on a per game average.
Team MVP: Willie Cauley – Stein 10.3 points, 7.3 rebounds 54% shooting from the field
Best Rookie: De'Aaron Fox – 12.7 points, 5 assists, 4.7 rebounds
27. Chicago Bulls record 1-4
Last week: 27
The Bulls remain in the same spot in the power ranking due to playing the fewest amount of games. The Bulls are losing by 12.2 points a night and are the league's worst scoring offense at 89.8 points a game. Lauri Markkanen just set an NBA record for most three's made in a players first four games with 12.
Team MVP and Best rookie: Lauri Markkanen – 15.6 points, 9.6 rebounds, 41.7% shooting from 3 (anyone see Markkanen being this good this early?)
26. Phoenix Suns record 2-4
Last week: 30
The Suns showed a good amount of fight last week winning two games despite being without Eric Bledsoe who is still suspended indefinitely. A Bledsoe trade is just a matter of when really. (Cavs, Knicks, Jazz, 76ers all could be landing spots)
Team MVP: Devin Booker 20.5 points, 6.2 rebounds, 4.3 assists
Best Rookie: Mike James – 11.2 points, 3.5 assists, 41.2% from three
25. Los Angeles Lakers: record 2-4
Last Week: 25
The Lakers have struggled the past two games scoring only 92 against the Raptors and 81 against the Jazz. The team is giving up 108.8 points a night so if they want to win, they need to score 100 plus to have a chance.
Team MVP and best rookie: Lonzo Ball – 10 points, 7.7 assists, 7.5 rebounds
24. Cleveland Cavaliers record 3-4
Last week: 10
The Cavaliers have major problems and the roster really is not that good. Want proof? Here are the Cavs last 5 games: lost to the Magic by 21, beat the Bulls by 7, lost to the Nets by 5, lost to the Pelicans by 22, lost to the Knicks by 19. The Cavs are giving up 110.1 points a night! That's a real problem that cannot be addressed with the current roster
Team MVP: LeBron James – 24.6 points, 8.6 assists, 7.1 rebounds
23. Miami Heat record 2-3 
Last week: 17
Everyone fell in love with the Heat last season because they finished the year 31-10. People forget they started 10-31. Complete Jekyll and Hyde. Inconsistencies remain with another slow start and Hassan Whiteside cannot seem to get himself to 100% healthy.
Team MVP: Goran Dragic – 20.2 points, 4 assists, 3.6 rebounds
Best Rookie:  Bam Adebayo – 3.3 points, 3.7 rebounds
22. Philadelphia 76ers record 2-4 
Last week: 28
Blowing a fourth quarter lead and losing at the buzzer to Houston keeps Philadelphia down the rankings for the time being. Simmons and Embiid will learn as they progress and will become more adept to closing out a game. The Sixers rank in the bottom third defensively to start the year.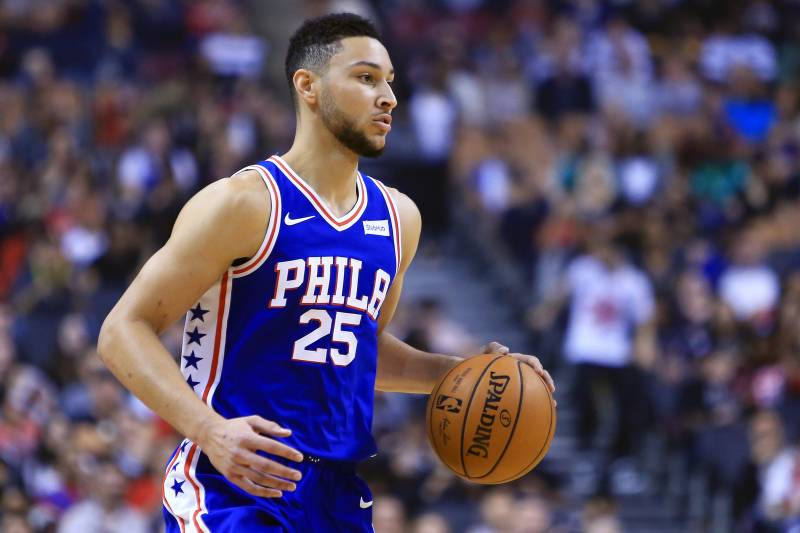 Team MVP and Best Rookie: Ben Simmons – 17.5 points, 9.5 rebounds, 7.3 assists (Magic Johnson type numbers)
21. Brooklyn Nets – record 3-4
Last Week: 14
The Nets play a free flowing up tempo game but the team is terribly defensively. Giving up 118.3 points a night to start the season is not a recipe for success. The loss of Jeremy Lin is showing more now that D'Angelo Russell has cooled off from his hot start.
Team MVP: D'Angelo Russell – 19.9 points, 5.2 assists, 3.8 rebounds
Best Rookie: Jarrett Allen – 4 points, 2.7 rebounds, 1 block
20. New York Knicks – record 2-3 
Last week: 26
Kristaps Porzingis now has four 30 point games already this season and has shown he can be the focal point of an offense. Jeff Hornacek does need to learn to trust his bench some more as the Knicks are giving heavy minutes to the starters early on. Frank Ntilikina has shown to be a player already and is making his doubters turn with consecutive strong games.
Team MVP: Kristaps Porzingis – 27.6 points, 8.6 rebounds, 1.4 blocks
Best Rookie: Frank Ntilikina – 4.7 points, 3 assists, 1.7 rebounds, 1 steal
19. Indiana Pacers – record 3-3
Last week: 22
The Pacers have not been as terrible as people originally thought and its in large part due to the guys they got in return. Oladipo has been playing at an all star level and Sabonis is a most improved candidate.
Team MVP: Victor Oladipo – 25.5 points, 4.5 rebounds, 3.2 assists
Best Rookie: TJ Leaf – 6 points, 2.7 rebounds 44.4% from three
18. Denver Nuggets – record 3-3
Last week: 15
The Nuggets have beeen up and down to begin the season filled with postseason expectations. Paul Millsap and Nikola Jokic are still learning how to adapt their games next to one another as both have not played to last seasons standards
Team MVP: Nikola Jokic – 15.5 points, 11.8 rebounds, 4.7 assists (yeah crazy these numbers are considered a slow start)
Best Rookie: No qualified candidate
17. Charlotte Hornets – record 3-3 
Last Week: 16
Kemba Walker and Dwight Howard look good enough to carry the Hornets back to the postseason. Howard looks like a different player than what he was in Atlanta and Houston. Howard is scoring 15.7 points and 16.3 rebounds.
Team MVP: Kemba Walker – 24 points, 6.5 assists, 4.2 rebounds
Best Rookie: Dwayne Bacon – 4.8 points, 5.5 rebounds
16. Oklahoma City Thunder – record 3-3 
Last week: 19
The Thunder are still struggling to find an identity. The bench is a significant weakness. The Thunder will spend a large portion of the season finding out the best way to incorporate their differing styles of play but come playoff time, they'll be a dangerous threat.
Team MVP: Russell Westbrook  – 20.8 points, 12.2 assists, 9.8 rebounds
15. Utah Jazz – record 3-3
Last week: 11
The Jazz have head to head wins over the Thunder and the Nuggets which places them ahead at the current moment. The Jazz are going to rely on on a balanced scoring attack all season and currently have seven guys scoring over 7.2 points a game.
Team MVP: Rudy Gobert – 13 points, 10.8 rebounds, 2.3 blocks
Best Rookie: Donovan Mitchell – 9.5 points, 2.7 assists, 1.5 rebounds
14. Minnesota Timberwolves – record 3-3 
Last week: 7
The Timberwolves have two wins over the Thunder and a win over the Jazz giving them the head to head over the tiebreaker. The Timberwolves were missing Jimmy Butler for two games last week and they lost both. When Butler plays, the T – Wolves are 3-1 on the year.
Team MVP: Karl Anthony Towns – 24.8 points, 11.8 rebounds
13. New Orleans Pelicans – record 3-3 
Last week: 21
After a 1-3 start, the Pelicans have found themselves the past two games winning by a combined 15 points a game. Anthony Davis and Demarcus Cousins are proving to be a top front court ever if they continue the pace their one. The duo has combined for over 57 points and 26 rebounds a game.
Team MVP: Demarcus Cousins – 32.3 points, 13.8 rebounds, 5.7 assists (Cousins for MVP?)
12. Toronto Raptors – record 3-2
Last Week: 5
The Raptors are beating opponents by an average of 10.2 points a night and the team is scoring 111 points a night. Only reason they are not higher? Best win is against the Sixers.
Team MVP: Demar Derozan – 23.4 points, 4.6 assists, 3.2 rebounds
Best Rookie: OG Anunboy – 6.2 points, 2.4 rebounds, 1.6 assists
11. Golden State Warriors – record 4-3
Last week: 18
Can anyone explain why the Warriors have started the season in a funk? The team just seems off and is not near the dominate level they played at least year. It's only seven games but it's interesting to see the Warriors struggle to win games like in years past.
Team MVP: Steph Curry – 27.6 points, 6.3 assists, 4.4 rebounds
Best Rookie: Jordan Bell – 4.8 points, 2.2 rebounds
10. Milwaukee Bucks – record 4-2
Last Week: 12
The Bucks are worth watching just to see what Giannis Antetokounmpo does next. Antetokounmpo is the early season leader for NBA MVP. Go toss money on him to win the award.
Team MVP: who else? Check these numbers 34.7 points, 5.5 assists, 10.7 rebounds.. crazy
9. San Antonio Spurs – record 4-2
Last Week: 6
Spurs started the season real hot winning their first four but have no dropped consecutive games. Kawhi Leonard is still out with an injury and the Spurs could use him back in the worst way. The Spurs are scoring less than 100 points a night to begin the year.
Team MVP: Lamarcus Aldridge  – 25.7 points, 9 rebounds, 1.8 assists
Best Rookie – Brandon Paul – 11.5 minutes 3.0 points
8. Orlando Magic – record 4-2
Last Week: 8
The Magic have been an early season surprise in the NBA season. The Magic currently lead in the Eastern Conference in Points per Game at 117.2 a night. Frank Vogel has the Magic playing team basketball.
Team MVP: Evan Fournier – 22.3 points, 4.5 rebounds, 3.8 assists
Best Rookie: Jonathan Isaac – 5.6 points, 4.4 rebounds, 1.2 steals
7. Boston Celtics – record 4-2
Last Week: 20
The Celtics are still trying to adjust to the shorter rotations and the flow of the offensive after the Hayward injury. The Celtics have now won 4 in a row after an 0-2 start. Marcus Morris is beginning a rehab assignment which should help their depth.
Team MVP: Kyrie Irving – 21.3 points, 5.7 assists, 4 rebounds
Best Rookie: Jayson Tatum – 15.2 points, 6.3 rebounds, 1.7 assists
6. Washington Wizards – record 4-2
Last week: 4
The Wizards have the third highest point differential in the eastern conference and have played four of the first six on the road. Wall and Beal are arguably the top back court in the east and Porter Jr and Oubre have seemed to elevate their games on the perimeter to help ease the pressure. Washington is a good bench player away from being a real contender in the East.
Team MVP: John Wall – 21.7 points, 10.3 assists, 2.7 rebounds
5. Portland Trailblazers – record 4-2
Last week:
Portland has the second highest point differential in the league trailing only the LA Clippers. Portland also has the second highest scoring offense in the West.
Team MVP: Damian Lillard – 22.3 points, 5.2 rebounds, 6.3 assists
Best Rookie: Caleb Swangigan – 3.8 points and 3.3 rebounds
 4. Houston Rockets – record 5-2 
The Rockets keep winning despite the absence of Chris Paul and the fact the team usually only plays 7-8 players on a given night. James Harden and Eric Gordon have the green light on offense to get 20 plus shots up.
Team MVP: James Harden – 25.6 points, 9.8 assists, 4.9 rebounds
3. Los Angeles Clippers – record 4-1
Last Week: 3
The Clippers have done well for themselves after the departure of Chris Paul. The Clippers are currently beating opponents by 13.8 points a night.. the best in the NBA.
Team MVP: Blake Griffin – 24.8 points, 9.6 rebounds, 4.4 assists
2. Detroit Pistons – record 5-2 
Last Week: 13
Stan Van Gundy has got something going in Detroit and the Pistons are sitting alone on top of the East after two weeks of games. The Pistons have now already beaten the Warriors, Timberwolves, and Clippers. Not a bad early season resume.
Team MVP: Andre Drummond – 12.9 points, 14.4 rebounds, 2.29 steals
Best Rookie: Luke Kennard – 4.8 points, 1.8 rebounds 1 assists
1 Memphis Grizzlies – record 5-1 
Last week: 2
Anyone else see the Grizzlies holding the top spot after two weeks. The Grizzlies have now beaten the Rockets twice, the Warriors, Mavericks and Pelicans. Mike Conley and Marc Gasol continue to lead the way but the team continues to get big contributions from role players. Chandler Parsons remembered he was once good at basketball on his way to a 24 point the other day.
Team MVP: Marc Gasol – 21.8 points, 10.2 rebounds, 3.3 assists