The Grit and Grind era may be officially over in Memphis as franchise icons Zach Randolph and Tony Allen have departed the franchise as free agents.
Memphis still retains their two core players who have become stars in the city. Mike Conley, the NBA's most underrated player, and Marc Gasol will continue to bring toughness and playoff basketball to Memphis come spring.
The front office spent the offseason making under the radar moves hoping they have found the correct pieces to surround Conley and Gasol for a deep playoff run once more. The Grizzlies are trying to rebuild with youth while compete at the same time. It is an interesting dynamic to see if it will actually work out.
Starters:
PG – Mike Conley
SG: Ben McLemore – Signed as a free agent 
SF: Chandler Parsons
PF – JaMychal Green
C – Marc Gasol
Mike Conley has still yet to make an NBA All Star team but that does not mean he is not an all star type talent. Conley has been snubbed by voters and is the leagues most underrated floor general. Conley is only getting better as he averaged a career high 20.5 points to go along with 40.7% shooting from three.
Ben McLemore will get the first crack as the starter as the Grizzlies will go with a shooting guard by committee. McLemore had an inconsistent career with the Kings and is looking for a fresh start in Memphis. His three point shooting will be his strongest asset to the Grizzlies this season.
Chandler Parsons may have the worst max deal in the NBA. Parsons was limited to 34 games a year ago after his third knee injury. Parson faced a strict limit restriction when actually on the court. He'll remain the starter if healthy if that's ever the case.
JaMychal Green is still a restricted free agent but lets assume the Grizzlies will retain his service. Green has become a versatile player scoring over 8 points and grabbing 7 rebounds per game in 27 minutes of action a year ago.
Marc Gasol is a three time all star and won a defensive player of the year award in 2013. Gasol is the heart and soul of the Grizzlies franchise. He is one of the NBA's most skilled centers having the capability of being a go to scorer, a good rebounder, a strong defender and having excellent court vision as a passer.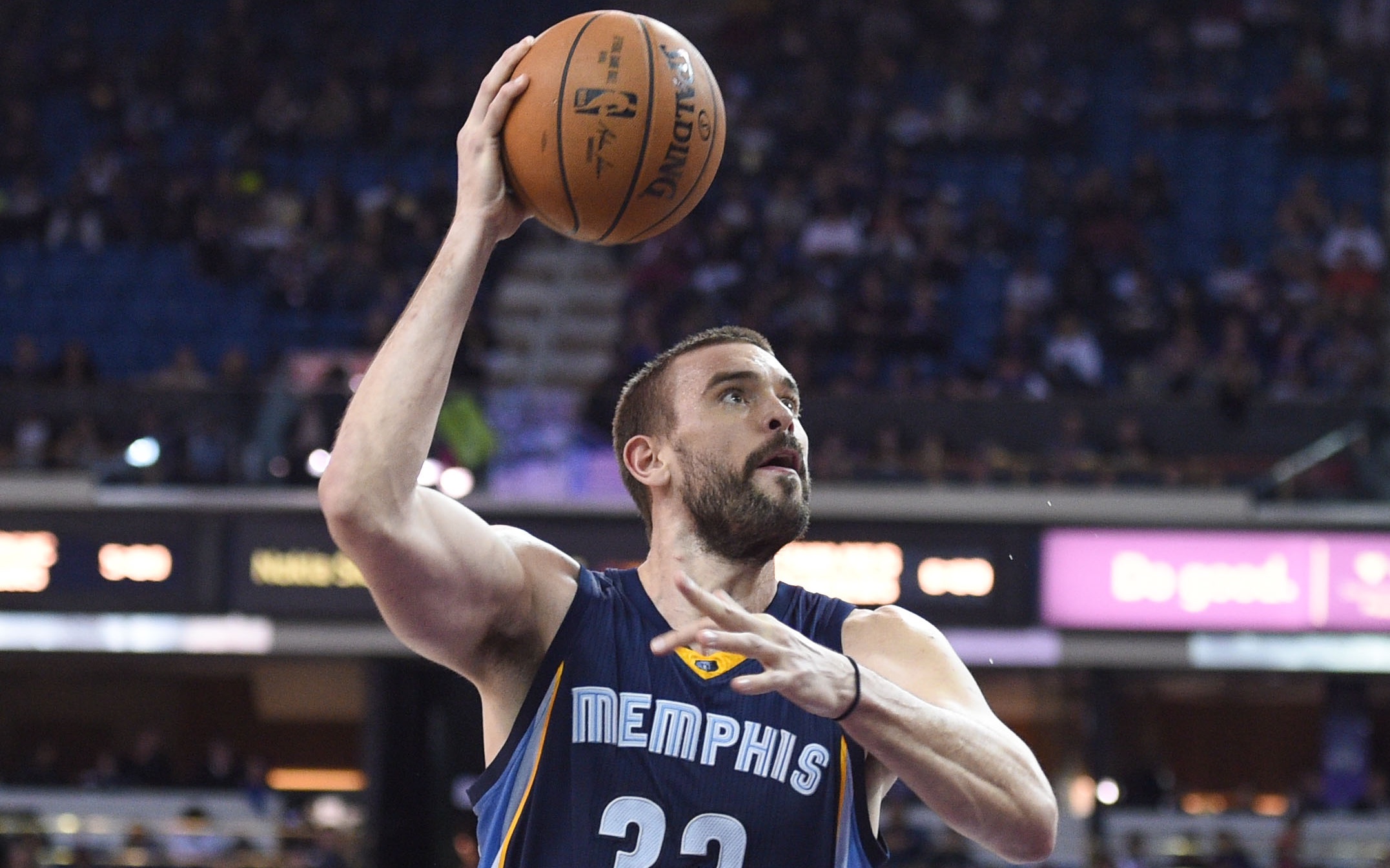 Bench:
PG – Mario Chalmers – Signed as free agent 
PG – Wade Baldwin
PG – Kobi Simmons – Two way contract  
SG – Wayne Selden
SG – Troy Daniels
SG – Andrew Harrison
SF – Tyreke Evans – Signed as Free Agent 
SF – James Ennis
SF – Dillon Brooks – Draft Pick
PF – Jarell Martin
PF – Ivan Rabb – Draft Pick
C – Brandan Wright
C – Deyonta Davis
The Grizzles currently have their roster set over the minimum amount. Deals will be made as players will either be cut, sent to the G-League or traded as the season gets closer. However, the Grizzlies have set up a nice little youth movement with players having potential upside.
Mario Chalmers returns after missing the past season with a torn Achilles. Chalmers will have the first shot at being the backup point guard if he can prove he's healthy.
Wade Baldwin was the teams first round selection a year ago. He did not show much and only appeared in 33 games. He will be competing with Chalmers in camp for the back up position.
Kobi Simmons signed as an undrafted free agent and agreed to a two way contract. A two way contract allows an NBA team to control a players rights and they can send that player to and from the G-League whenever they please. Simmons will likely spend most of the year in the G-League.
Wayne Selden displayed much promise as an undrafted rookie a year ago. Selden appeared in 11 regular season games with the Grizzlies showing he could be an adequate defender in the league. Selden started two playoff games for the Grizzlies. His three point shooting needs to significantly improve this year if he wants a larger role.
Troy Daniels is a three point marksman with his only role shooting from distance and bringing energy on defense. Daniels is a career 40.6% shooter from distance. He will be the teams back up 2 as the season opens.
Andrew Harrison played a significant role with the Grizzlies last year. He played in 72 games, made 18 starts and played over 20 minutes a game. He needs to improve his efficiency on offense as he only shot 32.5% from the field and 27.6% from distance.
Tyreke Evans was brought in as a key free agent acquisition. Evans will be the teams 6th man and have the play making responsibility with the second unit. Evans returns to the city where he played his college ball looking for a new start in his career.
James Ennis also played a more significant role with the Grizzlies last year than any other part in his career.  Ennis played in a career high 64 games and scored 6.7 points per game off the bench.
Dillon Brooks was drafted from the University of Oregon. Brooks is a tough guard with a defense first mentality. Brooks was the go to option for Oregon on the offensive end a year ago. He will not see much playing time early in the season.
Jarell Martin will have the first crack at the back up power forward position. Martin has appeared in just 69 career games in his first two seasons. Time for him to show he can be a rotation member in year three.
Ivan Rabb was drafted in the second round. Rabb was once considered a top 15 prospect after his freshman year fell to 35th overall after he decided to play his sophomore season. Rabb has a chance to surpass Martin early on the depth chart.
Brandan Wright has been hampered by injuries after signing a three year deal with Memphis. Wright only appeared in 40 games over his first two seasons with the Grizzlies. Wright can still finish around the basket and could use his long wingspan as an effective shot blocker.
Deyonta Davis is a young big with upside. He spent most of his rookie season developing in the G-League and may spend some more time there in year two. However, he may develop into a nice rotational big down the road.
Analysis: 
Some may write off the Grizzlies this season as they really have not added much to their roster while the rest of the Western Conference teams who finished below the Grizzlies a year ago got better. Memphis should not be a team that is counted out in the Western Conference playoff picture.
The team plays hard every night and the team was derailed by injuries a year ago. If the team is healthy and Conley and Gasol continue their nightly production, the Grizzlies should make the playoffs as a 7 or 8 seed.
If injuries hit either Conley or Gasol, they team will likely be sunk as they will rely on a lot of inexperienced youth to help carry them.
The Grizzlies need a healthy Chandler Parsons in the worst way to remain competitive in a stacked conference. Contributions from either Ben McLemore or Tyreke Evans will help ease the pressure off Conley and Gasol. It'll be an interesting year in Memphis.