The lawmakers from the state of North Carolina just notified the board members of the Atlantic Coast Conference that they will pull the University of North Carolina and North Carolina State from the conference if the state is boycotted from hosting conference tournament events once again.
This new bill is in response to the the HB2 law that preempted the ACC to move the conference tournament to Washington D.C and Brooklyn for the past two seasons.
Alex Rose of WGHP Fox 8 posted the bill and was the first to report the story. You can view it below: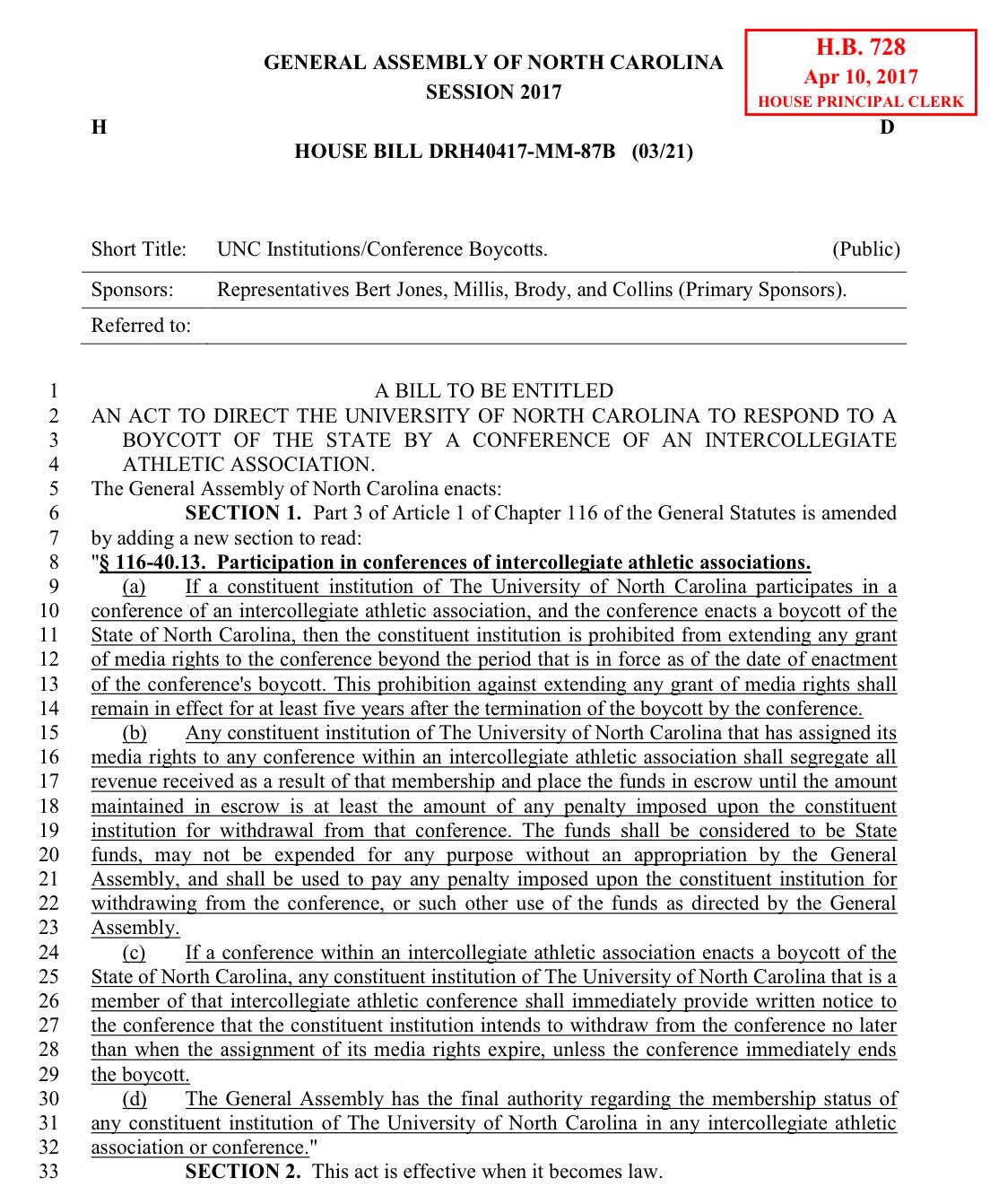 Duke and Wake Forrest will not be moved as they are private universities that does not receive state funding.
This is major news and could cripple the ACC as we know it. This may be the most insane proposal to date. Where would North Carolina go to? The SEC?
And what about NC State? They headed to the Big 10? If the lawmakers follow through on their threat, college basketball and college football would be crippled.
Imagine the North Carolina – Duke rivalry not taking place next season! North Carolina would be playing Kentucky twice a year if they moved conferences due to this new law.
This would cripple income to these two universities as well. North Carolina is the ACC's most recognizable school. They are the ACC brand. Removing them and placing them elsewhere would be a crazy idea.
Plus did the lawmakers factor in media rights and TV rights? North Carolina and NC State are contractually obligated with ESPN and the ACC to broadcast their games. Would they still receive the millions of dollars granted to them? Or will ESPN sue the schools and the state for a breach?
This is developing story that could lead to a nightmare scenario for the NCAA if this action is followed through. The state is now taking control and threatening to make a drastic move that will alter the landscape of collegiate sports.